Experts In Drug Free Pediatric, Prenatal and Family Health Care
We are proud to be part of an incredible network of caring, compassionate, and committed Pediatric Chiropractors.
Our purpose at PWBC is to restore hope, provide answers, and help get results for families seeking a natural drug-free approach to optimal health and well-being. If your child is struggling through the Perfect Storm, we have answers. If you are looking to promote health and wellness for your family, we can help. The PX Docs are an empowering and impactful resource for your entire family.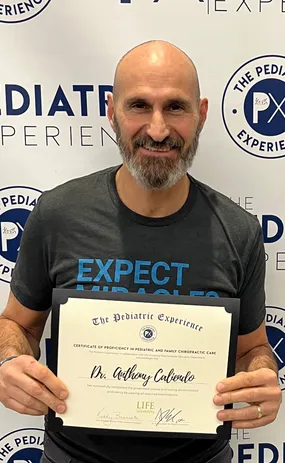 Dr. Anthony has achieved an amazing new Certificate of Proficiency in Pediatric, Prenatal and Family Wellness Chiropractic!
He has successfully completed 80-Hours of postdoctoral training sponsored by the Life University Department of Postgraduate Education and The Pediatric Experience and passed all exams and the final practical!

Right now, in our current world, sadly well over 50% of our children have at least one diagnosed chronic illness. 1 in 6 struggles with mental health issues and challenges. His concern is that he is seeing more children getting sicker at a younger age and as they grow and develop, the problems become more significant as the neurological imbalances continue to pick up negative momentum.
The training with Pediatric Experience included a deep dive into the miracle science of what is called "The Perfect Storm". Deep dive trainings and in-depth teachings of the exact mechanisms and neurology behind why so many kids are getting so sick and stressed early in life.
Dr. Anthony will continue with the Neuro-Tonal Adjusting approach that he has been using for over 30+ years while adding more expertise focused on Pediatrics, Prenatal and Family Wellness. Couple that with a deeper dive analysis into our patient's case management means that you and your family will be receiving even more advanced and thorough care than ever before here at PWBC.
Here at PWBC, we can promise you that you will find Hope, Answers and Help. You will be seen and most importantly you will be heard. We have the exact science, steps, technology and clinical systems needed to get real results that you have been searching to find for so long. The search is over once you and your family step foot in PWBC. You can truly "Expect Miracles" for you, your children and entire family!
Our PWBC family can confidently know that specialized and personalized care received here at our office will continue to be top-notch and bring miracles into your health like you have never seen before. Your health, your child's health, your family's health will continue to be our top priority. Our amazing team is fully invested in your care here at our office. Rebuilding your health on your journey to wellness one adjustment at a time.
We are just a text message, email or telephone call away. Give us a call and let's get you and your family started on your journey to the best health and wellness. We can't wait to meet you and your family.
Practice Wellbeing Chiropractic PC